SSIZ International Pvt. Ltd. is the leading Professional Beauty and Grooming Products Manufacturer and Distributor based out of Mumbai. It caters to the fast growing salon professionals and consumers' market in India.
With a vision to be one of the leading manufacturers of salon products supplier, the company has built popular award winning brands like Ikonic Professional, Biosoft, Up To Toe and Proarte. We are exclusive distributors of International Brands like Cadiveu and Brasil Cacau in India
We have 300+ distributors in all 4 zones of India covering the entire North, West Bengal, Jharkhand, Maharashtra, Goa, Gujarat, Tamil Nadu, Kerala, Karnataka, AP, J&K, Punjab and UP. The team strength of our company is 250+ for servicing salons and shops across the country. With a nationwide distribution network and cutting-edge technology in logistics & distribution, we promise to deliver the best service to our large customer base.
Mission

Identify trends, pre-empt customer needs and continuously evolve to offer future technologies and value-driven services that add profit to their business.

Vision

To be the world's most trusted and respected partner that will create a paradigm shift in the beauty industry and to elevate our expertise, strengths and scalability for the growth of our customers.
History
Our first store in business of beauty supplies started by Mr. Irfan Bhamla along with his partners was named Beauty Centre which was a 150sq.ft store in Cutlery market, Mumbai.
2005
Beauty palace was formed by Mr. Irfan Bhamla along with the support of his partners Anwar Kapadia and Rayed Merchant; a store dedicated to wholesale cosmetic business and professional product supply to pan India.
2009
SSIZ International was formed, an entity which functions in distribution of International and private label brands. IKONIC, our leading brand was also formed during the same period.
2014
With multiple brands under the portfolio and pan India reach with 180+ distributors in the country, SSIZ International was one of the largest professional brand distributor of the salon industry.
2017
SSIZ International partnered with two pioneering International brands Cadiveu and Depot putting the Brazilian and Italian brand on the Indian distribution network of 50000+ salons in India.
As the years passed by, SSIZ International evolved to be a market leader in the category for its extensive wholesale and salon distribution of various brands.
With a strength of 250+ sales and technical team, SSIZ International was soaring new heights and reaching its goal with a complete 360 degree vision and mission plan.
2019
SSIZ International takes a leap forward in moving the identity of the company to SSIZ International Pvt Ltd.
With over 30 years of experience, we are just getting started. We educate, we elevate, we get the world to India. We are SSIZ International, connecting beauty to business.
+ click to view profile

view profile

Founder, Chairman & Managing Director Irfan's keen sense of entrepreneurship has revolutionized the beauty industry in India. He is the pioneer of speciality retail for the Indian salon and spa industry and is responsible for many firsts:

First importer and retailer of global salon brands in India.

First channel partner which has launched global brands like Schwarzkopf and Kryolan in India.

First to establish a pan India distribution network for salon and spa products.
Chairman's

Note

" Global Beauty Market is an extraordinary, fascinating area of global consumption which in the last two decades have been witness to dramatic changes, reflecting the various economic, social and cultural transformations taking place at different parts of the modern, global world. The cultural shift brought about by the changing trends in the booming beauty and grooming industry is influencing everything, including the way individuals work, dress, socialise and travel. These changes bring a sense of responsibility as the consumers expect the best at all times. As the pioneer in the beauty business, SSIZ International understands this responsibility and steps-up to serve the ever-increasing needs of the consumers.

With an emphasis on building client relationships, we offer unique value optimization services that add strength and scalability to our clients' businesses and help them grow exponentially. "
Irfan Bhamla
Founder, Chairman & Managing Director
Leadership
Team
+ click to view profile

Zaid Bhamla

Director

view profile

Always in the know, Zaid is constantly connected with the latest happenings in the global salon and spa industry, which keeps him ahead of the curve. Always bursting with fresh ideas, Zaid brings a youthful energy and zest to the group's vision. Supporting retail, distribution and various customer connect programs, Zaid is all set to lead the group to connect with India's millennial.

+ click to view profile

Rayed Merchant

Director Marketing (Global) & Head Brand Procurement

view profile

A second generation member of the Bhamla family, Rayed is responsible for bringing in new gen marketing ideas that is pivotal to the group's future growth. A strong, close association with salon and spa professionals has sharpened his acumen and category knowledge, which has enabled him to grow the reach and penetration of the global and group's private brands across markets. He has been the central figure in the group's foray into global markets. Young and dynamic, he created his niche by writing the success story of the group's first private label, IKONIC, which today is a case study for emerging Indian brands in the professional products category. Rayed has successfully launched labels across categories and is also aggressively driving the group's partnership with global brands to launch them in India.

+ click to view profile

Anwar Kapadia

Director, Sales and Distribution (India)

view profile

Anwar joined the group in its initial stages of retail expansion in India. His 20+ years of experience in sales with a popular fashion label in India has given the Bhamla Group invaluable insights.

When he joined the group, his role involved retailing to popular salon chains and mom and pop beauty stores across India. Over the years, he has been instrumental in growing the retail and distribution network of Beauty Palace to its current strength of over 90 distributors and a 100+ sales team which oversees sales and channel development.

Anwar has also been instrumental in changing the way salon and spa chains and professionals shop for globally popular salon brands.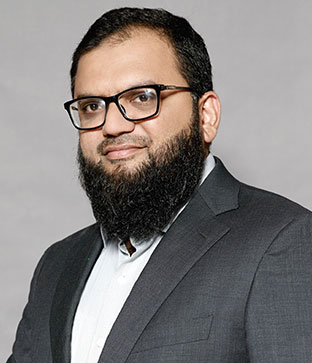 Steve Crown
Vice President and Deputy General Counsel Microsoft
Steve is Vice President and Deputy General Counsel, Human Rights, Microsoft Corporation, contributing to development and interpretation of company-wide policies that support advocacy for Rule of Law and respect for human rights in the conduct of the company's business across the globe. In order to advance company and industry initiatives and public-private partnerships to make the global internet safer and more trusted, Steve works closely with other companies, academics, investors, civil society, national governments and international organizations.
Since joining Microsoft in 1997 Steve has served in a variety of roles, including as VP and Deputy General Counsel for China strategy, VP & DGC for Office, and VP & DGC for Entertainment and Devices (Xbox, Windows Phone, and television and music services).
Before joining Microsoft Steve practiced law with the firm now known as K&L Gates, served as International Business Vice President for a company that built out wireless telephone networks in Russia, and established a commercial law practice with special focus on technology transfers and international trade and investment.
Steve holds degrees from the University of Washington, the University of Oxford, which he attended as a Rhodes Scholar, and Yale Law School. He serves in leadership positions on a range of organizations, including the Seattle Metropolitan Chamber (past chair), the Global Network Initiative (executive committee) the International Bar Association Media Law Committee (executive committee), and the Association of American Rhodes Scholars (past president).
Steve is fluent in English and Russian.